News and updates
26th July 2023
#MyVoteMatters Petition Hand-in to Downing Street and Parliamentary Reception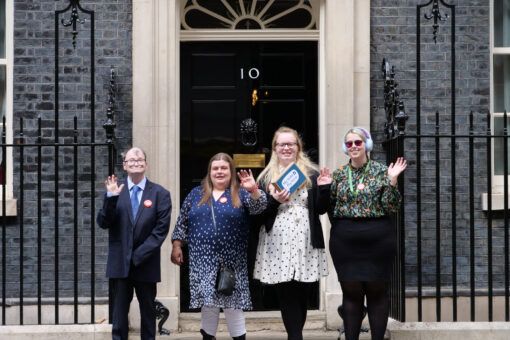 My Vote My Voice handed our #MyVoteMatters petition to Downing Street this month, together with the All-Party Parliamentary Group on Adult Social Care's Lived Experience Group. We called on the Government and Parliament to do their part to make elections more accessible and open clearer pathways to politics for autistic people and people with learning disabilities.
"This means a lot to me," said campaign spokesperson and United Response Consultant Hannah Molloy at the hand-in, "as I'm autistic and struggle a lot due to voting barriers."
Fellow spokesperson and Mencap's Parliamentary and Government Engagement Officer Ismail Kaji said, "I'm a supporter of the campaign because it's really important that people are included in politics and that voting is more accessible."
The My Vote My Voice campaign is important to me because it will give individuals like me who are autistic or who have a learning disability the opportunity to vote just like everyone else

Niamh Mitchell, Ambitious about Autism
Tom Pursglove MP, Minister of State for Disabled People, Health and Work, said he had received "loud and clear" the key message that politicians must do better to make it easier for autistic people and people with learning disabilities to exercise their democratic right to vote.
Vicky Foxcroft MP, Labour's Shadow Minister for Disabled People, said one major problem she had heard was that political parties used too much jargon. "We do need to make sure we use language that people understand. Call us out if we don't."
The two politicians were joined by three panellists who have a learning disability or are autistic for a lively discussion after the My Vote My Voice coalition had handed in at 10 Downing Street an online petition calling on government and Parliament to make politics and voting accessible for autistic people and people with learning disabilities.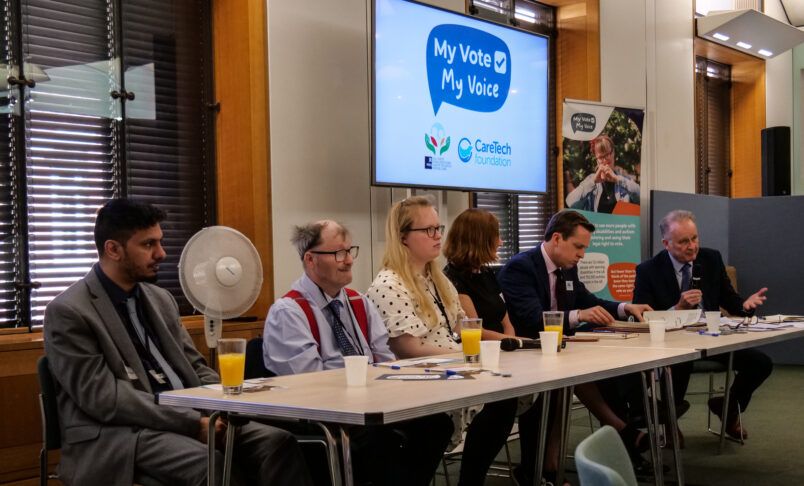 Hannah Molloy described how she had been "quite overwhelmed" by the challenge of voting at local elections earlier this year. It had been difficult enough to understand the process, but she had been sent home to get photo ID because of the new rules requiring it.
Dr Mark Brookes MBE, who has a learning disability and is Advocacy Lead for Dimensions, said people could be helped to prepare for voting by having practice elections and by putting together a voting passport, explaining their support needs, which could be handed to poll clerks.
Ismail Kaji said jargon was a big issue. If politicians and parties were genuinely unable to avoid using it in election material or on websites, there should be a key or footnote explaining what it meant.
I think for me what it comes down to is that people like me, and people that I care about, should have the right to vote with dignity and respect, and right now they don't have that.

Kytt Baxter, self-advocate
Several audience members described promises of support and engagement having been made but broken. One said their local group had invited 12 council election candidates to a meeting of 60 young people, but only four had attended. "If they are not going to show up to talk to us, why should we show up for them on election day?"
Vicky Foxcroft said: "We know we have got a lot of work to do to make sure we improve. This does need to be a cross-party issue."
Minister Pursglove agreed that rival parties should sink their differences in a concerted effort to make their engagement better. As for the electoral process, he said the government was keen to hear suggestions of practical steps that could be taken and he urged people to respond to an accessible consultation, open until 6th October, on the Disability Action Plan for 2023/24 which includes measures to help disabled people seek and gain elected office.
When asked about opportunities for disabled people to get more involved in politics, Mark Brookes reflected, "I did once consider standing for election myself, at local level, but the paperwork involved was far too hard. There was so much and no way to ask for help to make it more accessible for me."
According to the Disability Policy Foundation, just over 16% of elected councillors identify as disabled and less than 2% of current MPs are open about their disabilities.
I want to see more people with learning disabilities standing for Parliament so we've got a bigger say in the policies affecting us.

Gary Boulet, Learning Disability England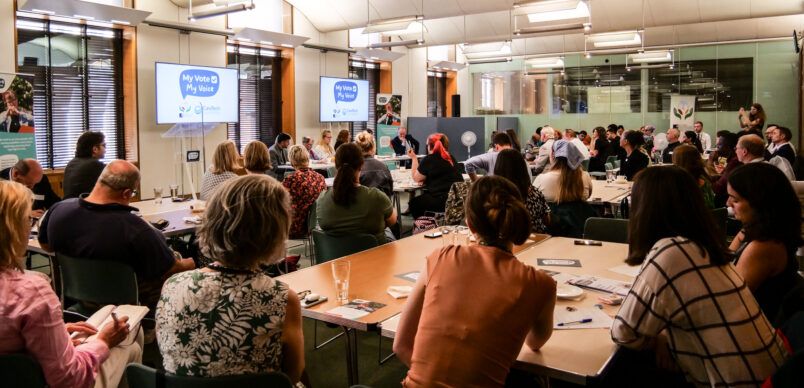 Closing the event, Liz Twist, Labour MP for Blaydon and co-chair of the All-Party Parliamentary Group on Adult Social Care, said: "It is essential to recognise that those for whom voting is inaccessible are often the ones impacted by decisions made by the government and Parliament.
"Policies and legislation touch every aspect of their lives, including education, healthcare, employment and social support. By making voting accessible, we ensure that their unique perspectives, needs and aspirations are adequately represented within our political system."
Event Chair Gáibhin McGranaghan said, "Events like this are few and far between, where disabled people and politicians can directly engage and learn from one another. Disabled people make up over 20% of the population, yet they're among the most underrepresented and disengaged groups in politics.
"A true democracy's only as strong as how inclusive it is. That means ensuring that everyone has a say in the decision-making, regardless of their needs. As we move towards the next general election, My Vote My Voice will build on today's tremendous enthusiasm as we invite partners across civic society and Parliament to join us on our journey to make a truly accessible democracy for everybody."
ENDS
My Vote My Voice would like to thank the CareTech Foundation for their generous support which helped us facilitate this event.